Our clients say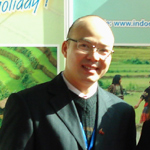 Mr Vu Hoang Anh (General Director of IndoChina Charm International Travel JSC.,)
After changing partners providing the services of web design and hosting for serveral times, I have finally chosen VINNO as my major partner since 2004. What I really trust from this professional team is that they have always been creative, flexible and proactive in offering the latest useful tools which serve the best in different stages of our business development. I wish you a fruitful year with  more customers who appreciate and treasure your value and your capability.
Mr Trinh Anh Sang (Director of SSCD)
VINNO's staff has always been modest and thoughtful in delivering their services. In terms of expertise, you have always done well in an enthusiastic manner. I hope you will perform much better, more creatively and with higher proficiency.
Mr Nguyen Trong Vinh (President of Boards of Directors of Nguyen Sieu School)
I would like to send my best regards to VINNO's team. I wish you better achievements which I believe keeping your spirit of "CUSTOMERS FIRST" along with reasonable cost should be among the first . The reasonable price and good quality service that VINNO is offering is a good solution for education institutions in general and for Nguyen Sieu School in particular.
Mr Pham Minh (Director of GLOMAX Joint Stock Company)
VINNO is our trusted partner during our development. We recognise that VINNO is a young but experienced team. You are not only energetic but also enthusiastic in supporting customers. Above all, I believe your strength lies in your smart and creative ways of working, dealing with problems and realising customer's idea. I wish you more creative ideas – better services for better support  of Vietnamese businesses in their global integration.